WCCCSA Participant: Costa Rica 2017

"I made the right decision choosing to study abroad in Costa Rica. The country is beautiful, and the people are nice. I was able to not just learn a new language, but I also got to meet new people, experience a new culture, and learn a new education system. It was a very good opportunity that I was able to go see another part of the world, learn to be independent, and learn to live with a local family."
Angela Estigoy: Costa Rica 2012 and Cape Town 2013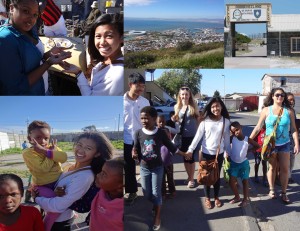 Angela Estigoy an International Studies major spent her fall quarter studying abroad in Cape Town, South Africa.  Along with nine other students from Washington state community college's, Angela studied in Cape Town through the Washington State Community College Consortium for Study Abroad (WCCCSA) program.  Students traveled over 15,000 miles to spend the fall quarter living and studying together in Cape Town.  Students on the program visited townships, museums, memorials, street fairs and markets learning about South African life and culture by experiencing and living it. The program was a mix of classroom based learning with a heavy emphasis on experiential education.
In her own words –
Most Memorable moment:  The most memorable moment for me was when we visited the Langa township because it was both so amazing and yet heartbreaking at the same time. The community is so close and happy with what they have that all you see is smiles on childrens' faces. I can't even begin to describe.
Biggest learning outcome: The biggest learning outcome I would say would be that the people in South Africa are not so different from us. They go through the same problems, talk about the same things, and are just like me and you. I've met some great people during my time there and have continued to keep in touch with them.
How has studying abroad impacted your future? I've studied abroad twice now: Costa Rica and South Africa. And I must say that even though I hadn't the slightest clue of what I wanted to going into those two trips, I eventually found what I was looking for at the most unexpected time, place, and reason. After a couple years of being frustrated at myself for not knowing what I wanted to pursue, it came at the right time because studying abroad led me to it. It showed me that I didn't want to be confined to just one space, one place in this huge world we are living in and that I wanted to leave it better than how I came into it. While I was in South Africa I declared my major and promised myself that I would do what makes me happy and what would make the people I help even happier.
I would definitely encourage other students to study abroad because there is just no substitute for experience. Out of the many things you should do in college, studying abroad has to be one of them. You not only learn a lot about yourself but about others and the world around you. It gives you the opportunity to see things in a whole new perspective and with an open mind and open heart, it will, no doubt, change your life.
WCCCSA Participant: Florence, Italy – Spring 2010
"I spent spring quarter 2011 in Florence, Italy, through the NSCC and WCCCSA/AIFS program.  I went to Italy looking for the past; I found the present and the future as well.
For many years, I have been fascinated with Italy in general and Florence in particular as the place where the Renaissance started and our modern world began.  I read about the Medicis, Brunelleschi, Botticelli, and Machiavelli and tried to imagine their world. I longed to see the place they built to better understand who they were and how they invented modern accounting and finance, architectural engineering, perspective painting, power politics, and humanism.  This spring I finally had the opportunity to live in their city, but I found it not to be merely an open-air museum of the past.  Instead, I found Florence to be a vibrant, modern city that preserves and cherishes its past while living fully in the present.  I learned to savor the impressions, the moments, the happenstances as they came and the dolce far niente, the sweetness of doing nothing or at least nothing immediately important.  And I came to realize that this very un-American but very Italian attitude was also a heritage of the Italian Renaissance.
I could not have discovered this except by spending enough time away from my routine at home and trying my best to live as a temporary resident in a foreign place.  A vacation of a week or two would not have been enough.  Looking back, I am not so sure that even an academic quarter was adequate.  It was, however, enough time to become known in my neighborhood, to have the baristas, the waiters, the newspaper vendors, the shopkeepers, the bartenders, and the street musicians and performers recognize me as a regular.  It was enough time to get to know them and the shops, businesses, restaurants, schools, piazzas, and streets where I lived.  It was barely enough time to learn enough Italian to carry on a halting and simple conversation with patient locals.  It was barely enough time to visit the museums, palaces, and churches and wander the streets marveling at the buildings, walls, and bridges that first attracted me to Florence.  It was enough time to get a sense of the place as it was and as it is now.  Walking home from dinner with friends my last night in Florence, I sadly realized that I was about to leave just when I was finally somewhat competent, just when I had learned some of how to do as Florentines do, just when I understood a bit of what it was like to live there.  But I recognized I had achieved something, something I doubt I could have explained prior to going.
When I was younger and in college the first time, I never had both sufficient time and sufficient money for foreign study.  I am fortunate that these came together for me as an older, returning student.  Still, foreign study is not cheap, but the WCCCSA program provided the longest time overseas at the least cost with someone else handling all the logistics of any foreign study program I am aware of.  I appreciate that as an intermittent student, as an older student, as a life-long learner I was welcomed and encouraged by all of those I encountered through this program.
One of the most rewarding aspects of my foreign study experience was completely unexpected.  Because I am both only an intermittent student and an older student, I do not spent much time with those in their twenties—I do not really know their generation.  Although I was in many cases older than my classmates' parents, my classmates treated me as a peer and a friend.  As we traveled together and lived together, as we learned and studied together, and as we struggled with homesickness and culture shock together, we became a remarkably close circle of colleagues who supported and assisted each other.  I was never excluded due to age.  I came to know most of my classmates as the talented and remarkable individuals they are, and each of them impressed me.  Their enthusiasm, energy, passion, zest, their intelligence and thoughtfulness, their empathy and care, their diligence and persistence inspired me.  Coming to know my young friends and their aspirations restored my hope that the future will be in good hands.  I came home feeling honored to have met each of them."
Emily Dahlgren: Florence, Italy – Spring 2010

"Looking back, this trip to Florence, Italy with WCCCSA and AIFS was the most amazing experience of my life so far.  I didn't get the chance to study abroad while I was getting my Bachelor's at WSU so when I saw the chance with Shoreline Community College, I was really overjoyed.  This trip continuously surprised me with not just the city's beauty and culture, but with my growth as a student and a person. I did things like climb to the top of the Duomo of the main cathedral (fear of Heights and all) and I made lots of wonderful friends.  I immersed myself into the culture of Florence and it was more than I could have imagined. It's amazing what I discovered about myself when I was placed into a entirely new situation: new culture, new language, new adventures, new challenges.
And what is more, I would never have enjoyed and known the city as well as I did by travelling as a tourist.  What I learned in my classes translated to what I saw in the city. No guide book could have taught me as much about where I was living.  After reading about Cellini in my literature class, I walked in the Palazza Republica and saw the exact statue of which I had read.  I was more immersed in the city than I could ever have imagined.  Without my classes, my instructors, my tour guides, and all that was offered to me, I never would have felt so a part of the city as I did. I am so grateful that I had this opportunity and if I have a chance to study abroad again, you better bet I will be taking it without a second thought!"